Northern Neck Farm Museum Gift Shop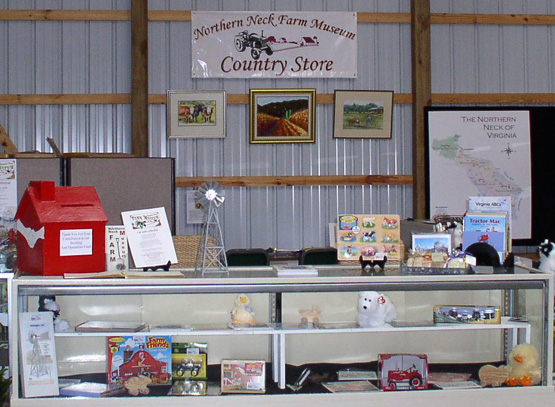 There are gifts for all ages at the Farm Museum Gift Shop. The children's section includes a collection of books about farm equipment, crops and animals, puzzles, small tractors and farm animals. There are special motif place mats and kitchen items.
Tee shirts are available in various colors. A great gift for someone special is an apron with the museum's logo. These come in green, white or royal blue. The goat milk soaps and creams make excellent gifts for women looking for natural cosmetics. Tractor cleats are a new addition.
The Gift Shop is available whenever the museum is open and by appointment. Just call the museum at 804.761.5952.
Donate Funds to The Farm Museum
Donations are critical to the survival of the museum. They are used to build and maintain the exhibits, to host educational events, to develop educational programming, for general operations, and to maintain the property for visitors. In addition, you may designate your donation to be entered into the Building Fund which will be used to construct the main Farm Museum Building.
The Northern Neck Farm Museum is a recognized 501c3 non-profit so most donations can qualify as a tax deduction. Cash donations are always welcome and needed. They will be recognized in the categories outlined in the pdf file below:
Click here to download our Donate Funds form.
Donations of Farm Equipment and Artifacts
The Northern Neck Farm Museum sincerely appreciates the donations of farm equipment and artifacts. In order to care for them properly, the Accessions Committee must first determine if the item is something that can be effectively used and cared for by the museum and if it will meaningfully contribute to the current exhibits. A form has been developed that allows you to tell us about the potential donation so a decision can be made. Please click below for the form.
Please review the Museum's Accession Policy and then submit your potential donation for review. If you have any questions you may email us at info@thefarmmuseum.org or phone 804.761.5952.