Featured Exhibits
(We have begun our Museum addition to include a classroom, bathrooms, storage, open pavilion and gift shop. Thank you to all our contributors who made this possible, especially the Wiley Foundation who got us started with a generous donation. Hope to be able to share the new space with everyone in 2022.)
The Exhibits were developed by John Jenkins, Committee Chairperson and the help of many volunteers. Particular thanks goes to Arthur Roberts for donating the interpretive panels and to the Northern Neck Vocational School for contributing the labor to construct the panel boards.
Farm Tractors
Tractors marked the beginning of the age of machines for farmers on the Northern Neck. The first ones were very large, cumbersome and steam powered, but with the introduction of diesel and gasoline engines, tractors became more practical after 1920. They still were very rudimentary with metal wheels and metal seats but by reducing the dependence on animals and farm workers they dramatically changed farming. To learn more visit the Farm Museum and see the different models that were used from the 1920s to the present including:
John Deere (1928~1935)
Case L-LI (1929~1940)
McCormick-Deering Farmall F-12 (1936)
Fordson (1936)
Allis Chalmers G. (1948~1955)
McCormick Farmall Cub
Ford Jubilee (1953~1954)
International Harvestor McCormick Deering 10-20
The tractor collection was donated by John Jenkins and Luther Welch.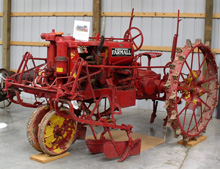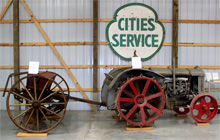 Farm Equipment
The farm equipment exhibits were expanded to include more hand tools and an entire shelf around the ceiling of farm equipment. In addition to the tractors there is a unique dog-powered pulley machine that was one of the first used in this region and a seed cleaning machine that was hand powered. There are also several samples of horse drawn plows and the equipment needed to sustain a farm before the arrival of tractors.
The Farm Wife
Critical to the success of farms in the past was a teamwork partnership in which the wife's role was essential to the success of the farm. Exhibits include an old wood stove that cooked many meals including bread and cakes long before electricity arrived on the Northern Neck. Store-bought clothing was expensive and often not available in rural areas, so a sewing machine was critical for mending clothes and creating outfits from yards of fabric. The Norb Rieg family donated a machine from the 1900 period to museum. Cleaning clothes could be a tiresome task until washing machines made the scene in the late 1800s. On display are some rare examples of the early hand-powered washing machines which were donated by John Jenkins.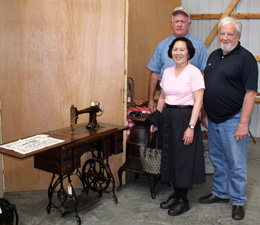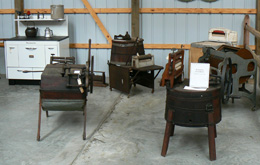 Rural Electrification
While urban areas had electricity available in the 1880s, it was almost 1940 before the convenience of flipping a switch to have lights in the evening hours was available to less populated areas like the Northern Neck. Oak Grove (Westmoreland County)was first to receive electricity, but it was 1948 before the Lyells (Westmoreland County)Substation was energized. The Northern Neck Electric Cooperative donated a new photographic display on the history of delivering electricity to the region. Come to the museum to see a sample of one of the early electric lamps used in the area.