2023 Predator Plow Down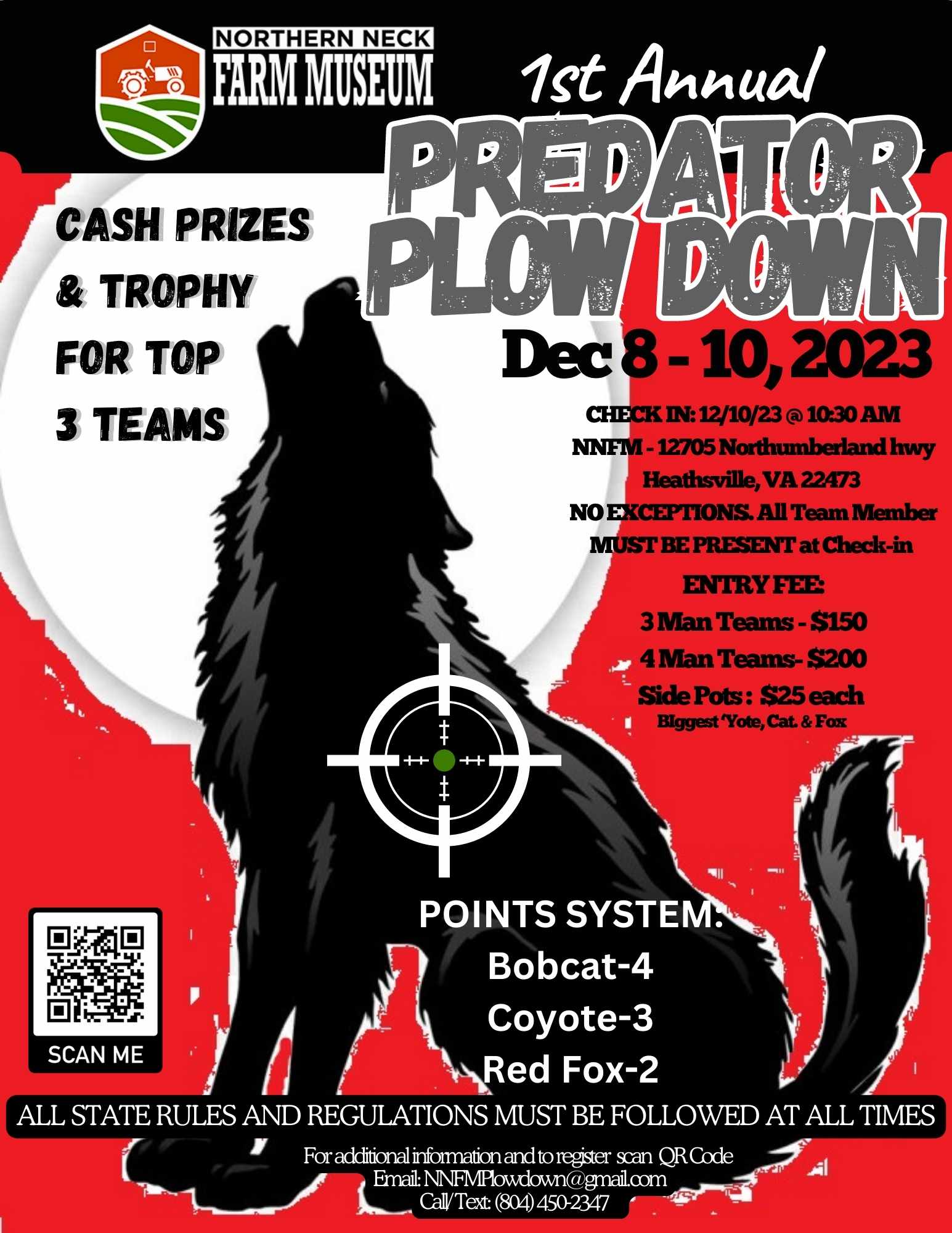 PREDATOR PLOW DOWN RULES AND REGULATIONS
December 8-10, 2023
Check-in Location: Northern Neck Farm Museum @ 10:30am Sharp on 12/10/2023
12705 Northumberland Hwy.
Each Participant much be registered for this hunt. When hunting in groups, each member of the group must be registered, or the entire group will be disqualified. Splitting teams is not allowed and teams must hunt together. Only registered hunters may participate in the tournament.

Registration must be paid, forms signed and received by the NNFM no later than December 8th, 2023 by 12 noon. Registration forms and payments that are mailed must be post marked by December 1, 2023, to ensure processing time. Please reach out if you have questions or concerns.

Entry Fees: $150 for 3-man teams, $200 for 4-man teams. Side pots for biggest coyote, bobcat, and red fox are $25 each and must be paid prior to the start of the tournament. Please select which side pots you would like to enter on the registration form. 100% of side pots fees collected will be paid back to winners. The top 3 teams in overall points will take home cash prizes and trophies. If there is a tie, the team who arrives first wins. Prize money will be distributed as follows to the teams with the most overall points:

1st Prize- 50%

2nd Prize- 30%

3rd Prize- 20%

Each hunter is responsible for the proper disposal of their harvested animals. There will be no disposal area available at check in. It is recommended that teams cover harvested animals to and from check in.

No "pooling" of harvested animals from other teams or hunters. No trapped, snared, caged or roadkill allowed.

All animals must be harvested during the days and times of the event. Hunting will start promptly at 6pm on December 8th, 2023. A short video with the following will be required to verify harvested animals:

All team members

Shake harvested animal to show rigor mortis has not set in and eye shine.

Randomly generated code which will be provided at 6pm 12/8/2023 via text message and Facebook Event.

Participants must possess a valid hunting license. Licenses may be checked at weigh in.

All local ordinances and state game laws apply. Any violation of local ordinances, state game laws or rules of this hunt will result in disqualification for the entire team.

Hunting must take place East of the Mississippi River, on your land, or land you have permission to hunt. Local and State laws apply.

All teams must be represented in the parking lot no later than 10:30am for check-in to be eligible.

Door prizes and food will be available at check in!
For additional questions or concerns, please call/text (804)-450-2347 or email nnfmplowdown@gmail.com
Registration Information:
How to register for the 2023 NNFM Predator Plow Down.
You can register in person at the Northern Neck Farm Museum Saturdays 10am-2pm or Sundays 1pm-4pm.
Click here for online registration. Payment is required before a team is fully registered. 
or Print the 2 forms below, sign and mail to the address listed on the form. Please write "2023 Plow Down" in the memo section of your check.
Registration can also be completed online by printing the 2 forms below, signing, and scanning/ take a picture and send to nnfmplowdown@gmail.com. Payment is required prior to teams being fully registered. Payment can be completed online by using the following:
Venmo @NNKFM